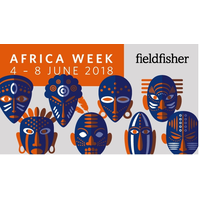 Manchester has a rich history in trade with Africa and has a number of established businesses working on the continent. At the heart of the North West of England, it is a hub, around which many towns, cities and commercial centres operate.
For British African Business Alliance (BABA), it was a big step forward when Leticia Lisondja and Ian Austin from FieldFisher invited us to get involved in their Africa Week activities. Both they and their Africa Group recognised the opportunity for a firm of successful international solicitors to take the lead and bring together parties with common interest and a view to boosting trade.
Albert Square Chop House was an ideal venue, providing an oasis in the city and, the surprises that one must expect when doing business in Africa - the micro-Guinness that was not quite the real thing, (and no it was not Coke either!) was a surprise and a 'stiffner' prior to speaking. The combination of Tia Maria and Baileys might have been a bit more African, if the bar tender had known about Amarula – a delightful African cream liqueur from the fruit the elephants so enjoy once it ripens and starts to ferment!
On the screen, films of African wildlife set the scene, to the rhythms of the drums. And, then almost 100 people convened from all sides of the continent and from the North West too! Tanzania, South Africa, DRC, Nigeria, Uganda, Kenya were home to some of those I met.
For me, business was brisk with genuine interest being expressed in our work and the opportunity we are taking to accelerate development, by bringing the business leaders of the African Community together. There is a real thirst amongst these business leaders for proper engagement with UK businesses that have technology, products or services to sell in Africa.
The cheap Chinese bubble is bursting and while the Chinese remain the most intrepid in Africa at the moment, there is recognition among African buyers that low quality and poor service are no good once a machine fails. Until that point, price is powerful discriminator.
James Lewis of the FieldFisher Africa Group and a director in their dispute resolution team
set out the stall, the depth of experience and focus of activity that bring this international firm to target Africa. His case history from Ethiopia provided a welcome and positive change, showing how quality of thinking and knowledge can create agreements to meet the needs of both parties. It was great to hear how stalled deals were restarted and projects could be advanced successfully.
Manchester is home to over 7,500 professionals, with connections to Africa, so BABA knows that its Manchester Africa Business Network has a long way to go. However, by bringing together the business and development leaders; by recognising the common opportunities of Pan Africans; and, reaching out to UK companies who can facilitate with technology expertise or finance, there is much more for us all to achieve.
Thank you to FieldFisher for bringing their support and commitment, through the Africa Week Project, to the work that needs to be done; and so, we thank God our projects can advance as well.

David Smith
Chairman
14thJune 2018
---